Den Andra Operan (DAO) is a Swedish opera company that produces operas written by women.
THE QUEEN OF THE AMAZONS (2019)
by Maria Antonia Walpurgis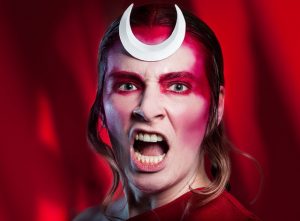 This production played June 19th – July 11th at Årsta teater, Stockholm, and July 20th at Järna Festival Academy.
For the first time in Sweden – laser baroque opera by a female composer! We unite sci-fi, mystical rituals and the 1760's and welcome you to the first performance in Sweden.
In The Queen of the Amazons we are thrown into a war that has been going on for as long as anyone can remember. Men and women are bitter enemies and meet only on the battlefield. The border separating their territories is constantly guarded by the armies as they take turns attacking each other. At the coronation, the ruthless warrior women's new queen must take a sacred vow – to dedicate her life to fighting their enemy: the men. But she hesitates. Is there a way to coexist?
This magnificent but forgotten baroque opera is a collaboration between the opera company Den Andra Operan, the performing arts company Kamraterna, the Copenhagen based orchestra Damkapellet and the chorus Operadonnorna.
The opera was written in 1760 by Duchess of Bavaria, Maria Antonia Walpurgis Symphorosa (1724-1780), with inspiration drawn from queen Kristina of Sweden. Apart from composing operas, Walpurgis was also a writer, cembalo player and singer. She performed the leading role of queen Talestri at the premiere in Nymphenburg, Munich, in 1760. The opera was performed around Europe in the late 1700's but then fell into oblivion, as many other works by women throughout history. Until now.
We are bringing Walpurgis' powerful music back to life and with it illustrate a constantly present and current theme. Welcome to a compelling opera, performed by some of the most exciting opera singers and musicians of our time.
Artistic team
Music and libretto: Maria Antonia Walpurgis
Swedish translation: Martin Virin
Stage director: Ditte Hammar
Assistant director: Elsa Ridderstedt
Musical director: Marcus Mohlin
Set and costume designer: Marie Abildgaard
Tailor: Linnéa Brun
Hair and make up: Frida Ullander
Choreographer: Sara Ribbenstedt
Light design: Niclas Anderstedt Lindgren
On stage
Soloists: Hanna Fritzson, Lisa Thor, Linnea Andreassen,
Linus Flogell and Wiktor Sundqvist
Chorus: Operadonnorna
Orchestra: Damkapellet
Production team
Technical director:Sally Langford
Technician: Carl Kristiansson
Producer: Eva Sunmo
Assistant producer: Maria Erlansson
Photographer: Maximilian Mellfors
Running time: 2 hours 30 minutes, including two intervals
The Queen of the Amazons is a collaboration between Kulturhuset Stadsteatern, Kamraterna and Den Andra Operan.
This production is supported by Kulturförvaltningen, Region Stockholm, Konstnärsnämnden, Statens kulturråd, Musikverket and Studiefrämjandet.
Thank you!
______________________________________________________________________
Previous production:
2018 Les Surprises de L'enfer, by Isabelle Aboulker, written 1981. An outdoor production in Malmö and Stockholm.